Distracted Driving Accidents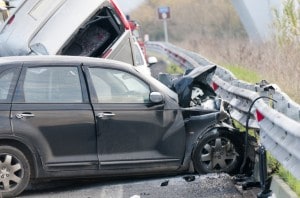 Distracted driving has quickly become one of the most dangerous obstacles on the roadways. The attorneys at Slappey & Sadd have extensive experience representing clients who were injured by distracted drivers. Distracted driving occurs when a driver is focused on anything other than the task of driving. If a distracted driver hit and injured you, you may be entitled to compensation through a personal injury suit. We serve the entire state of Georgia, including Norcross, Roswell, and Smyrna.
Types of Distracted Driving Cases We See
Distracted driving is the most common cause of accidents on the roadways in the United States. The National Highway Safety Administration finds that driver distraction is to blame for 87% of rear-end accidents. Distracted driving can also be deadly; the US Department of Transportation found that distracted driving killed 3,179 people and injured 431,000 more in 2015.
There are several common types of driver distractions:
Texting;
Talking on the phone;
Eating and drinking;
Talking to passengers;
Grooming;
Using a navigation system;
Watching a video; and
Adjusting audio and temperature controls.
Of all of these distractions, texting is by far the most dangerous, due to the visual, manual, and cognitive attention it demands in taking the driver's primary focus off the road.
Texting While Driving
Texting and driving is particularly dangerous because it involves all three distraction classifications: visual, manual, and cognitive. When drivers are texting, they are distracted in three significant ways:
Visually – when looking at a phone rather than at the road and traffic;
Manually – when typing a message rather than attending to the physical task of driving; and
Cognitively – when concentrating on a textual conversation rather than on the driving at hand.
Further, texting while driving is illegal in Georgia. It is classified as a misdemeanor and is punishable by a fine of $150. If a driver who was texting hits you, the fact that he or she was texting can be used as evidence of negligence in your personal injury suit.
Distracted Driving can be Deadly
Federal statistics indicate that distracted driving contributes to about 16% of all fatal crashes, causing about 5,000 deaths per year. What makes distracted driving so dangerous is "latency" — the period of time before, during, and after the distracting activity in which the brain is not focused on driving. The degree of latency depends on the type of activity the driver is engaged in. For example, adjusting temperature controls is a relatively minor distraction and causes latency of only a second or two, while sending a text message causes an average of 27 seconds of latency. This represents a long time to be unaware of what is going on around you while you are on the road — enough time to fail to realize that a light has turned green or, even worse, that a pedestrian has stepped into the crosswalk in front of your car.
If you have been injured by a distracted driver, our experienced distracted-driving accident attorneys will evaluate your case, listen to your concerns, and develop a legal strategy that ensures you are compensated to the extent that you deserve.