Motorcycle Accidents
Motorcyclist Suffer Significantly Higher Rates of Injury and Death Then Other Motorist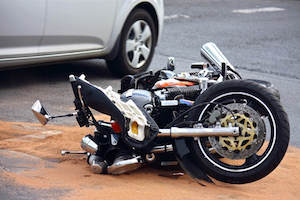 Motorcycle accidents frequently result in a tragic death or serious personal injury. More than 100,000 motorcyclists have died in crashes since the enactment of the Highway Safety and National Traffic and Motor Vehicle Safety Act of 1966. In 2000, motorcycles made up 2 percent of all registered vehicles in the United States, but accounted for only 0.4 percent of all vehicle miles traveled. However, per vehicle mile traveled, a motorcyclists is about 21 times more likely to die in a crash and almost 4 times as likely to be injured than a passenger car occupant that is involved in a crash. Indeed, per registered vehicle, the fatality rate for motorcyclists in 2000 was 4.1 times the fatality rate for passenger car occupants, while the injury rate for passenger car occupants per registered vehicle was 1.2 times the injury rate for motorcyclists. In 2001, motorcyclists accounted for 8 percent of total traffic fatalities, 9 percent of all occupant fatalities, and 2 percent of all occupants injured. Many of these injuries and fatalities occur in Atlanta and throughout Georgia every year.
What is the Major Cause of a Motorcycle Accident Injury or Death?
Motorcycle accidents usually occur when a motorcycle collides with another motor vehicle. Two-thirds of such accidents occur when the motorist fails to yield the right of way to the motorcycle rider. Often, motorists insist that they did not see the motorcycle. This is particularly true when motorcycles are involved in trucking accidents due to vision restrictions or blind spots of the truck.
I was always be thankful for your help during my time of need. I will always keep you in mind if I have another need for assistance. -NF
How Soon Should I Retain a Lawyer An Accident?
In the immediate aftermath of a serious motorcycle crash, finding a lawyer may not be your first priority. However, one must recognize that the potential defendant has likely already notified their attorney and insurance company. The insurance company has a team of lawyers whose job it is to avoid providing fair compensation to the injured party. As the victim is recovering, the defendant's insurance company is already out collecting (or even concealing) valuable evidence. It is important to have a qualified personal injury attorney as soon as possible after an accident to protect your legal rights.
If the motorcycle accident occurred in Atlanta or anywhere in Georgia, call for the experienced attorneys at Slappey & Sadd.