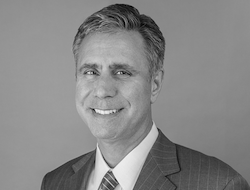 Jay Sadd
Partner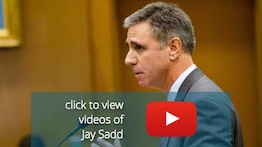 James (Jay) Sadd is a lawyer and partner of the firm Slappey & Sadd, LLC, Atlanta, Georgia. With his law partner, Scott Slappey, Jay formed Slappey & Sadd, LLC in 1992 to represent families, workers, and consumers who have been critically injured or lost a loved one because of the negligence or willful conduct of others. Slappey & Sadd, LLC represent people who have been seriously injured or suffered other losses by car accidents, trucking accidents, defective products, defective premises, malpractice, insurance bad faith, and other acts of negligence.
Jay practices in every court of Georgia, including the Georgia Supreme Court, Court of Appeals, and all Georgia Superior and State Courts. Jay is also admitted to the Federal Bar, and practices in the United States District Courts of Georgia, and the United States Court of Appeals for the 11th Circuit. He is also licensed to practice in West Virginia, where he was born and raised. Jay represents his clients from the settlement negotiation stage to trial to the appeal of a case, if necessary.
Jay has received the Georgia Law-Related Education Consortium Award for outstanding service to the Consortium and the children of Georgia and a Certificate of Commendation from The West Virginia State Bar and The Pro Bono Referral Project for service to individual needy citizens of West Virginia. He is also a member of the East Tennessee State University Letter Winner's Club. In addition to membership in the Million Dollar Advocates Forum, which is limited to trial lawyers who have achieved verdicts, awards or settlements in the amount of one million dollars or more, Jay has been counsel in cases in which his client has been awarded or recovered $10,250,000; $7,000,000; $5,600,000; $5,000,000; $3,450,00; $2,600,000; $2,250,000; $2,100,000; $1,700,000; $1,600,000; $1,200,000; $1,000,000 and numerous other significant confidential awards to compensate his clients for losses suffered due to other's wrongdoing and/or negligence.
Jay holds a Juris Doctorate from the Walter F. George School of Law, Mercer University, 1987.He is a member of the State Bar of Georgia, Atlanta Bar Association, Atlanta Lawyers Club, Georgia Trial Lawyers Association, American Association for Justice, West Virginia Bar Association, Sandy Springs Bar Association, and the DeKalb Bar Association. Jay is named "Best of the Best" of Georgia's Super Lawyers as published in Atlanta magazine and Georgia Super Lawyers Magazine. He has been named by Georgia Trend Magazine as among Georgia's "Legal Elite". He holds the highest rating possible (AV) by Martindale-Hubble, a nationally recognized lawyer directory. The AV rating recognizes "the highest level of skill and integrity" in the profession. His law firm has been recognized as "Best Lawyers" by US News and World Report. Jay is a Fellow of the Lawyers Foundation of Georgia, an honor that recognizes those lawyers whose public and private careers demonstrate outstanding legal abilities and a devotion to their communities.
Jay lives in Atlanta with his wife Laura and 2 children. Outside interests include watching baseball, an occasional round of golf, exercise, and hanging out with his family to the extent his teenage children will allow.
COMMUNITY INVOLVEMENT (CLICK HERE)
Served as President of the Georgia Trial Lawyers Association (GTLA), 2012-2013, and is a frequent speaker to assist other lawyers in developing their skill as trial attorneys for seriously injured clients.
Has successfully represented hundreds of victims and families who have been mistreated by insurance companies, suffered catastrophic injuries or wrongful death.
Was lead counsel for 37 injured victims of the 1996 Centennial Olympic Park bombing.
Has appeared as a guest and has been quoted by several national media sources, including NBC's Today Show, CNN World News, CBS television, ABC television, The New York Times, USA Today, The Atlanta Journal and Constitution, and The National Law Journal.
Is a frequent speaker, presenting on topics such as jury selection, insurance coverage, bad faith insurance practices, catastrophic injury, wrongful death, trucking litigation, and punitive damages.
Former editor of Calendar Call, the official publication of the General Practice and Trial Section of the Georgia State Bar.
Served as Chairman of the Legal Education Committee for the Young Lawyers Section of the Georgia Bar.
Board member of Initiative 2000, which commemorated the 10th anniversary of the Americans with Disabilities Act.
Member of the Communications and Outreach Committee of The Public Justice Foundation.
Chairperson of the Education Committee for the Georgia Trial Lawyers Association.
Served as Vice-Chairman of the Board of Director for the American Association of Adapted Sports Programs, Inc.
Served as an Instructor for the Trial Techniques Program, Emory University School of Law.