Medical Malpractice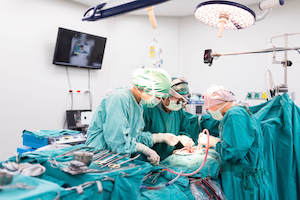 Brain injuries can cause significant and tragic effects on your daily life. In some cases, treatment that you or a loved one received at the hands of a health care provider may have caused it. If so, an Atlanta medical malpractice lawyer can analyze whether you have a claim for medical malpractice or other professional negligence.
What Types of Medical Care can Cause Brain Injuries?
Brain injuries can be caused by a variety of factors. Blunt head trauma or oxygen deprivation are two of the most common. In some cases, medical mistakes may be to blame. Brain injuries can be suffered in pregnancy and childbirth due to improper diagnosis, treatment or complications during delivery, for example. There are a host of other medical conditions that if not properly diagnosed or treated, can lead to brain injury. If you suspect a medical mishap caused a brain injury in you or a loved one, let an experienced brain injury attorney review the facts and help gauge whether you may have a medical malpractice claim. Anesthesia errors are also known to cause traumatic brain injuries.
What is the Medical Malpractice Law in Georgia?
If you suffered a brain injury as a result of medical malpractice, an Atlanta medical malpractice attorney can discuss what legal elements you'll need to prove. Medical malpractice is a type of negligence. To prove it, you must show that doctor or other medical professional fell below a recognized standard of medical care which then caused your injury. Not all medical mistakes rise to the level of medical malpractice. Courts look to whether that standard of reasonable care was followed. As your attorney can explain, malpractice cases generally require the testimony of an expert witness to prove what care the doctor should have provided.
The Use of Expert Witnesses Help to Provide Proof in Brain Injury Cases in Georgia
Again, malpractice requires proof that your doctor failed to follow a reasonable standard of care. In general, lay people are not qualified to render an opinion about that standard in court. Rather, a medical expert is required. One of the principal tasks of a personal injury lawyer is to help secure a respected medical expert who can testify about the treatment you received and how it fell below the standard of care and caused your injuries.
What Types of Damages are Recoverable in Georgia in a Brain Injury Case?
Like other negligence cases, if your injuries were caused by no fault of your own, you may be entitled to compensation aimed at making you whole. Unfortunately, if you or a loved one suffered a significant brain injury, you may never be whole again. The law permits monetary compensation. Things like medical bills, lost wages and pain and suffering are potentially recoverable. Proving your damages will likely require copious medical documentation, written opinions by your expert witness as well as testimony from you and your loved ones. Your attorney can help you plan a strategy for presenting your case to the insurance adjuster or at trial. At Slappey & Sadd, LLC, you can discuss your case with a skilled medical malpractice lawyer in Atlanta who can help you decide whether and how best to pursue you claim. Call 404.255.6677 or toll free 888.474.9616 to set up a consultation at no charge to you.
Medical Malpractice Attorney Georgia
Medical malpractice is when someone in the medical profession fails to diagnose or treat a patient correctly and that person is injured or dies as a result. Typically medical malpractice not the sort of thing anyone of us really wants to think about when visiting a physician or receiving treatment in a hospital. Unfortunately, the treatment and care that you expect from the medical profession is not always of the highest standard. Mistakes are made on a regular basis and victims and their families have to deal with unexpected deaths and injuries that are often life changing, all because of decisions and actions taken by members of the medical profession.
Who may be to Blame for Medical Malpractice?
Physicians
Nurses
Pharmacists
Surgeons
Dentists
There are numerous cases every year of misdiagnosis when a physician has ordered the wrong test or failed to correctly interpret test results and even failed to refer a patient for further testing. These wrong decisions can cause serious injuries or death to the victims, especially if a symptom becomes so prolonged that the patient dies or is left in very poor health with far less chance of recovery.
Nurses
make mistakes too, which is often to dowith failure to recognize a deteriorating health condition so that a physicianis not called to act and the patient dies as a result. Other types of nurse'smalpractice are giving the wrong medicine to a patient because the patient'snotes were either ignored or the writing was too difficult to read. Instead ofguessing, the nurse should consult the physician directly to confirm the name ofthe drug and its dosage.
Pharmacists
are not always blameless when itcomes to instances of medical malpractice as they may make mistakes by placingthe wrong pills in bottles or give wrong dosage information.
Mistakes by surgeons when coordinating an operation have at times left surgical instruments and swabs inside patients which require a further operation to remove. Some of the worst cases of medical malpractice are when patients are not labeled properly and end up having the wrong operation performed.
What Should You do if You Believe You Have Experienced Medical Malpractice and You Have Been Injured?
Like all cases of negligence, medical malpractice is hard to prove as no one, from the person directly involved to the management of a hospital, will readily admit that medical malpractice has taken place. There are so many times when patients just suffer the consequences of medical malpractice. On occasions, medical malpractice may lead to early death or a long recovery time. In the U.S. it is your legal right to be compensated if you have been injured or have lost a family member to medical malpractice.
Hire a Medical Malpractice Attorney in Atlanta
If you are in this situation you should contact a medical malpractice attorney who will decide if it is possible to accumulate enough evidence to win a personal injury claim. Some states have a limit to how much can be recovered in a medical malpractice lawsuit but normally all medical expenses to correct the medical error are recoverable and any loss of earnings while recovering plus an amount for pain and suffering. Most attorneys offer their services on a contingency fee basis meaning no upfront payment is required and the legal fees are paid on settlement. Most states set a statute of limitations on wrongful death claims which is often 2 years from the date of the death.