Workers' Compensation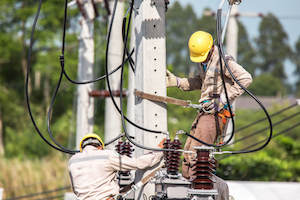 The term "Workers' Compensation" refers to a system of laws outlining specific benefits to which injured employees are entitled, and the procedures for obtaining such benefits. Our Atlanta workers' compensation lawyers can assist you with this process. Every state has its own Workers' Compensation laws, which are contained in statutes and vary somewhat from state to state. In addition, there are special, federal Workers' Compensation laws for employees of the federal government and other, specific types of industries.
Thanks for all the advice on my case. It helped me to understand more about Workers' Compensation. I am still on Workers' Comp and still trying to settle with the lawsuit, but I am patient. Thank you for helping me through a very difficult time in my life. Your staff was always willing to help answer any questions. Thanks again. Angela D. – Oxford, Georgia
What Happens if I was Injured While Making Deliveries for my Company?
Any injury that occurs while engaged in the course and scope of duties imposed upon the employee is considered a work-related injury. Even if a worker is injured while away from the employer's work site, if he becomes injured while engaged in work duties, the injury or occupational disease may be covered by Workers' Compensation Law, Personal Injury Law, or both.
I would recommend my family and friends to Mr. Scott Slappey. I have never had anyone to treat me with so much concern, keep me abreast on everything and answer all my questions. I saw the Christian in him. If I ever need a lawyer he would be the first person I would call. I thank God for leading me to Mr. Slappey. I had called several lawyers in Columbus and they told me no. Barbara M. – Columbus, Georgia
Who Must Carry Workers' Compensation in Georgia?
In Atlanta every business with three or more employees must have some form of Workers' Compensation insurance to cover injured employees. Filing a Workers' Compensation claim is similar to filing an insurance claim; it isn't a lawsuit against an employer, but rather a request for benefits. If you have been injured at work, our Atlanta workers' compensation attorneys can explain the complexities of Workers' Compensation and help you secure the maximum benefits to which you are entitled.
What Does Workers' Compensation Cover in Georgia?
In most work-related injuries, an injured employee's recovery is limited to Workers' Compensation benefits. This means the employee cannot sue the employer. However, careful analysis of the cause of injury is important because there may be other avenues of responsibility and recovery.
Workers' Compensation Provides Three Basic Benefits
Payment of medical bills/expenses for all treatment related to the on-the-job injury or accident;
Payment of a weekly monetary benefit called Temporary Total Disability (TTD) if you cannot return to work because of the workplace accident or Temporary Partial Disability (TPD) if you are not able to earn the same amount of money as before the workplace accident;
Payment of a disability related monetary benefit if you are issued a Permanent Partial Disability (PPD) rating from a doctor.
Why Would I Need a Workers' Compensation Attorney?
A competent lawyer will help you to address light duty work issues, make sure the workers' compensation doctors treat you fairly and provide all the treatment you need, and help you navigate the Workers' Compensation medical system. Certain doctors and treatment facilities are well known to put the employer's interests in front of your interests – we can direct you away from these doctors. As an injured worker who is receiving benefits, you are entitled to a change of physician (panel switch) and an Independent Medical Examination (IME).
If you feel you are being asked to return to work before you are capable – or your employer is refusing to abide by the light duty work restrictions issued by your doctor – you will need a workers' compensation lawyer in Atlanta to resolve these issues with your best interests at heart.
What Kind of Injuries are Covered by Workers' Compensation?
Workers' Compensation injuries do not have to be the result of a specific accident, such as a slip and fall or a car collision on the way to work. Georgia Workers' Compensation law also includes common repetitive use injuries such a carpal tunnel, cubital tunnel, tom rotator cuffs, meniscus tears in the knee and numerous other conditions. An employer will rarely recognize its responsibility for such repetitive use injuries without the involvement of a lawyer. With the competent and experienced help of Slappey and Sadd, you can obtain the benefits you are entitled to for any and all injuries covered by Georgia Law.
Claims for catastrophic injuries such as traumatic brain damage, loss of limbs or senses, severe spinal cord damage, paralysis and other debilitating injuries may provide the injured worker with lifetime weekly money benefits and lifetime medical coverage. Settlement of Workers' Compensation claims should be handled by an attorney qualified to properly evaluate cases and obtain maximum recovery.
I never even dreamed I would have the need to call on a lawyer. But, thank goodness someone referred me to Scott Slappey. I can honestly say Scott put 110% into my case. He never gave up and never let me give up. In the end we were very successful, and I appreciate all Scott and his office staff did to help my case. Rebecca D. – Claxton, Georgia
Call 404.255.6677 or 888.474.9616 to speak with a Workers' Compensation attorney and receive a free accident lawsuit evaluation and to determine whether you have a valid Workers' Compensation claim as the result of an injury that occurred while working.
Workers' Compensation Attorney
The Bureau of Labor Statistics has revealed that there are approximately 5,000 injuries that result in fatalities each year in U.S. workplaces. In fact, around 4% of workers are affected by non fatal injuries every year. Normally, Workers' Compensation laws will cover most injuries suffered in the work place. This is an amount of money provided by your employer to cover your losses while you are affected by an injury which occurred at work.
Generally, limits are set for workers' compensation, unless there is evidence that an employer has acted recklessly and these actions have resulted in a serious injury to the employee.
There Is a Process for Claiming Workers' Compensation
If you have been injured, however minor an injury, your employer will expect you to file a report on a designated accident form available in your workplace. In most states there is a time limit set for filing the form. The accident date and a description of the accident should be filled in and it should be handed to your supervisor who will sign it. You must make a personal copy of the completed form, too.
Once Workers' Compensation has been approved you can expect it to cover:
Medical costs
Disability benefits
Permanent disability entitlements
Under Workers' Compensation all medical costs are covered, and you should be allowed to treat with a doctor that you pick from your employer's pre-selected panel of physicians. An injured worker can later change to a different doctor on that panel of physicians if they are not satisfied with their first selection. If an employer does not have a panel of physicians that conforms with the requirements set forth by Georgia's Workers' Compensation laws, you may be able to treat with a doctor of your own choosing.
If you are unable to undertake your job because of your injury, you should be entitled to temporarily total disability (TTD) benefits. The entitlement to TTD benefits is two thirds of your average weekly wage. If you are able to work following an injury but are not capable as earning as much money as you earned prior to your injury, you should be entitled to temporary partial disability (TPD) benefits. The entitlement to TPD benefits is calculated at two thirds of the difference between your earnings prior to your injury and your earnings after your injury. If you are permanently disabled by your work injury, permanent partial disability (PPD) benefits may be owed to you. The amount owed to you would be dependent upon the degree of permanent impairment an injured employee has suffered following a work injury.
When is a Personal Injury Claim, not Workers' Compensation, a Possibility?
Unfortunately, Workers' Compensation law tends to favor the employer more than the employee, so the pain and suffering and financial loss suffered by a worker when he or she is seriously injured is not always covered by Workers' Compensation. Even when a work injury is caused by the employer or a co-worker, an employee will only be able to recover Workers' Compensation benefits. However, if an employee is injured due to the negligence of a third party, they may be able to pursue a personal injury claim against that third party while simultaneously pursuing their Workers' Compensation claim.
An example of a situation such as this is if you are employed directly on a construction site by the owner of the site and a contracted crane operator accidentally drops a load on top of you and you are injured. You would likely have a Workers' Compensation claim against your employer, but may also have a personal injury claim against the contracted crane operator. Another common instance of a personal injury claim occurring simultaneously with a Workers' Compensation claim would be when an employee is involved in a motor vehicle accident through no fault of their own while making deliveries for their employer. That injured employee would likely have a Workers' Compensation claim against their employer as well as a personal injury claim against the at-fault driver. It is important in a situation like this to contact an experienced workers' compensation attorney in Atlanta who will assess your situation and decide how you should best be compensated. Slappey & Sadd offers a free consultation and does not ask for any upfront fees.