Personal Injury
Atlanta Personal Injury Lawyers Protecting Our Client's Rights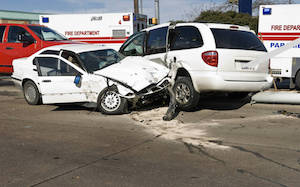 When an accident strikes, you might not know where to turn. As medical bills pile up and you miss more and more work, you may be scared that you'll soon be forced out of your home or apartment, losing everything you've worked hard to build. On top of everything else, you might be in intense pain and suffer from sleeplessness or anxiety. At Slappey & Sadd, we fight to get our clients fair compensation for the injuries caused through no fault of their own.
Causes of Personal Injuries
A personal injury is any injury you've suffered through someone else's mistake. People can be injured in many different types of accidents, such as the following:
Truck Accidents
Car Accidents
Motorcycle Accidents
Other Motor Vehicle Accidents (Airplane, Bus, or Train)
Medical Malpractice
Defective Medical Device
Birth Injury
Workers' Compensation
Work Related Injuries
Construction Injuries
Alcohol Related Injuries
Nursing Home Abuse
Elder Abuse
Dog Bite
Insurance Bad Faith
Premises Liability
Product Liability
Each case presents a unique fact pattern, and only a qualified Atlanta personal injury attorney can assess the circumstances and pinpoint the correct person to sue. At Slappey & Sadd, our team of experienced personal injury lawyers perform a thorough case assessment for every new client.
Common Personal Injuries
Personal injury victims suffer injuries to their bodies which result in extreme pain and might leave a lasting disfigurement. They may become disabled and be unable to return to work, or they might withdraw from friends and family. The purpose of the civil law system in Georgia is to provide financial compensation to make up for some of these injuries. If a loved one died in an accident, then their survivors might be able to bring a wrongful death lawsuit to receive compensation as well.
Accident victims or their surviving loved ones might receive compensation for the following:
Medical bills
Prescription drugs
Physical therapy
Lost wages (past and future)
Pain and suffering
Loss of care, love, and affection
Not every personal injury victim will receive compensation for all of the above, but only a qualified personal injury lawyer in Atlanta can analyze your injuries and estimate how much they are worth in a settlement or lawsuit.
How a Personal Injury Lawyer can Help
The legal system is complicated and appears mysterious to many outsiders. If you're going up against a powerful company or their insurer, then it is even easier to become intimidated. Some people give up trying to hold the party at fault responsible. Instead of struggling to defend your rights, you should focus on your injuries and on healing. Leave the case investigation and settlement negotiations to an experienced Georgia personal injury lawyer who understands how to build and present a convincing case to a jury.
Call a Personal Injury Lawyer Today
If you or a loved one has been injured in an accident, you may be entitled to compensation for your injuries. At Slappey & Sadd, we have over two decades of experience fighting for victim's rights. Call us today at 888.474.9616 or send an email through our online contact form. The personal injury attorneys at our Atlanta firm serve the entire state of Georgia, including Fulton and Newton Counties.