Product Liability
Atlanta Product Liability Lawyers Ensuring That Victims Obtain the Compensation They Deserve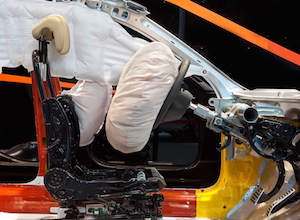 Millions of products are produced and sold each year in the United States. Most of these products are perfectly safe and accomplish whatever task they were intended for quite adequately. However, occasionally, a product that is unsafe or defective makes it onto the market and injures the end user. In those cases, the manufacturer of the product is liable to the end user for any injuries the product causes.
Below, we'll take a look at some common types of product defects (with examples), and then go over the steps required to make a products liability claim.
Types of Product Defects Manufacturing Defects
A product that suffers from a manufacturing defect is one that is flawed because there was an error made when it was being manufactured. As such, the product that causes the injury is different from all of the other products in the same line on the market. By way of example, a manufacturing defect could include:
A coffee pot with a crack that leaks hot liquid
A tainted batch of cookies
A lamp with a frayed cord
A vehicle manufactured with substandard parts
You can contact a product liability lawyer at our Atlanta firm if you encounterany of these problems.
Design Defects
A design defect is an inherent flaw in the way the product was conceived of and manufactured. Thus, a design defect affects all of the products in a particular line of products rather than just a single product. A few examples of design defects could include:
A model of SUV that is so top-heavy that it flips over easily
A lawnmower whose blade detaches when it spins too fast
A laptop that shocks users when they open it
Failure to Warn
A products liability suit based on a failure to warn is a bit different from those based on products that are defective. Generally, products are required to bear warnings when they present dangers that are not obvious to the user or that require the user to exercise special care when using it. Some examples of failure to warn situations include:
A type of adhesive that causes severe chemical burns if it comes into contact with human skin
A medication that does not warn of potential harmful interactions with other medications
A stove whose nobs become extremely hot when the range reaches a certain temperature
Our product liability attorneys can help Atlanta residents hold manufacturers accountable for these problems.
Proving Liability in a Product Liability Case
Liability for product defects in Georgia is based on strict liability, meaning that the only things the plaintiff has to prove when bringing a products liability claim are:
The defendant was the manufacturer of the product at issue, and
The product was defective when it left the control of the manufacturer, and
The product's defective condition proximately caused the plaintiff's injury
Notice that the elements of this action do not involve a determination of fault like other tort claims. This is because in strict liability actions, the plaintiff only needs to show that a tort occurred and that the defendant was responsible for it.
Call Slappey & Sadd, LLC Today to Speak With a Product Liability Lawyer
If you have been injured by a defective product, you may be able to seek compensation for your injuries from the manufacturer or retailer of the product. We serve the entire state of Georgia, including the following locations: Augusta, Lawrenceville, and Norcross. To schedule a free case evaluation with an Atlanta product liability attorney, call us today at 404.255.6677 or contact us online.