Product Liability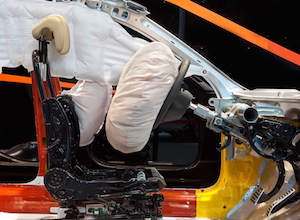 Alaw suit against the manufacturer or seller of a defective product is known as a product liability case. There are several general types of product liability cases.
In a strict product liability action, a manufacturer that sells a defective product may be held liable to a buyer or anyone who is injured while using the product. In such cases, the injured person may not need to prove that the manufacturer was negligent, but only that the product was defective. A strict liability action can be brought against the party that designed, manufactured, sold, or furnished the product in Atlanta or anywhere in Georgia. An experienced product liability attorney can help.
An injured person may also bring a product liability claim based on the theory that the product was negligently designed or manufactured. Examples of such claims include a missing piece to a drill press or faulty wiring in an electrical appliance.
Another type of liability deals with the failure to adequately warn consumers of the dangers posed by a product. These cases involve products that are sold with inadequate warnings (or no warnings at all) that fail to advise consumers of the hidden or unknown risks associated with using the product. Manufacturers have a legal obligation to inform the users of their products about any hazards that cannot be avoided without changing the product's design in a way that would make it difficult or impossible for it to perform its intended use. The attorneys at Slappey & Sadd have the experience to help make that determination.
What Are Examples of Design Defects Causing Injury?
Design defects, which can range from defective harness systems in child car seats to hair dryers that can dangerously overheat, cause million of injuries each year. Design defects occur during a product's initial planning phase before it is actually manufactured. Oftentimes, manufacturers learn about defects in the design of their products after they have already been distributed for sale, leading them to launch a recall. The problem with recalls, however, is that (1) they often occur too late and (2) product owners may never hear about the recall.
How Can I Determine If the Injury Was Caused by Defective Manufacturing?
Manufacturing flaws result from mistakes or problems that take place during the actual production and manufacturing process. Those problems or mistakes may only affect a few of the products that were manufactured, while the rest may work properly and safely. One example of a manufacturing defect is a rolling office chair whose wheel disengages, causing the person in the chair to fall and injure her back. Like products with design defects, products with manufacturing defects are frequently recalled, albeit sometimes too late to prevent members of the public from being injured. If you have suffered a serious injury as a result of defective manufacturing, let our Atlanta lawyers review your case.
How Can I Determine If Inadequate Testing of Products Caused My Injury?
When it comes to safety crash testing, inadequate testing is all too common. Most corporations test crashworthiness, seatbelt effectiveness, and other considerations at only 40 miles per hour and only in front-end crashes, rendering the tests inconclusive and often meaningless. Yet, these standards have yet to be revised. Other examples include faulty electrical wiring and inefficient child restraint systems. A lawyer with experience in testing procedures will need to review your case.
What Constitutes Marketing Misrepresentation?
Marketing defects include improper product labeling, insufficient instructions, or the failure to warn consumers of a product's hidden dangers. A manufacturer's negligent or intentional misrepresentation about its product may also give rise to a product liability claim.
These are just some of the situations that can lead to a product liability case. Often, a product liability claim can be brought along with other types of claims, such as a medical malpractice or personal injury claim. Your lawyer should explore every option available when you are injured.
Please contact the Law Offices of Slappey & Sadd, LLC at 404.255.6677 or toll free at 888.474.9616 to set up your initial free consultation.
Product Liability Attorney Atlanta
When a company produces a product, it must ensure that the product is not dangerous in any way to the purchaser. If someone is injured or killed as a result of using a product then the company may be held responsible for the cost of the injury. This is known as product liability.
Who Can Be Held Responsible?
It is not just the manufacturer who can be held responsible for an injury but any other person who was part of the production or supply process. This could be:
A manufacturer who has produced parts for the product
The person who assembled the product
The wholesaler that supplied the product
The retailer who was responsible for selling the product to the purchaser
What Is a Product Defect?
There are three types of product defect, which are:
A design defect, which is when it is found that something in the products design has made it dangerous or unsafe to use;
A manufacturing defect, which has occurred while the product was being manufactured or assembled;
A marketing defect is when a product is poorly labeled, there are inadequate instructions on its use or safety warnings are not present.
What Happens If an Injury or Death Takes Place?
The victim or victim's family will have to provide proof that a particular product caused the death and no warning was supplied explaining the dangers of the product. This means that had the user known the dangers of the product the accident and injury would not have taken place. It is an expectation of anyone who supplies a product that sufficient testing of the product has taken place before it is put up for sale.
If there is anything potentially dangerous a warning of how to use the product safely is required. A common example is the use of over the counter medications where a dosage for the use of a tablet is included in the labeling as well as any possible side effects if the product is not used appropriately. If the labeling was found to be insufficient and someone died or was seriously injured someone in the manufacturing or supply chain may be held accountable.
Recent Recalls of Defective Products
Once it is found that a product is defective the person responsible will recall the product before major personal injury claims or wrongful death lawsuits take place. This often takes place after an injury or death has occurred. One of the largest auto recalls recently has been for a variety of models of GM's autos that had defective ignitions installed.
Recent recalls include:
Children's high chairs
Children's toys
Children's car safety seats
Meat products
Tire products
Vehicles with defective brakes
Once a recall has been announced it would be difficult to file a personal injury claim for any injuries after that date.
How to Take Action after an Injury due to a Defective Product?
If you believe you have been injured by a product and it was not your fault you should hire an experienced product liability attorney who will access your case for eligibility to file a personal injury claim. Product liability claims are not simple matters, as companies and courts will need convincing before fault can be confirmed. Fortunately for victims of product defects attorneys do not usually ask for upfront fees and normally offer a free consultation. The legal costs are commonly only paid if and when the case has been settled and payment has been made.