Back Injury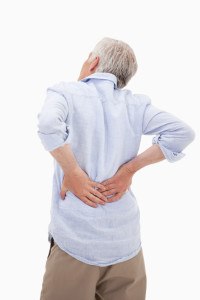 Our personal injury attorneys have been helping people with serious back injuries for years. Our law firm uses an experienced team of investigators and medical experts to prepare compelling claims for back injury victims throughout metro Atlanta and the entire state of Georgia. For personalized legal services in a serious injury matter, call the law firm of Slappey & Sadd. We offer free consultations to discuss serious injuries. We assist paraplegic accident victims and other clients who deserve full compensation for their medical bills, lost wages, pain and suffering, and rehabilitation expenses. We handle back injury lawsuits against drunk drivers, employers, and other liable parties in matters.
What are Some Serious Back Injuries?
Quadriplegia, paraplegia and all other forms of spinal cord injuries and paralysis
Bulging and herniated discs
Sprains and strains of the upper, middle, and lower back
Back fusion surgery and other types of spine surgery
Let us help you get the compensation you deserve for your injury. Our law firm handles all forms of back injury claims, and our skilled personal injury lawyers represent all types of accident victims including drivers, passengers, pedestrians, and workers.
"Leon and I think Scott is the very best. Scott has always been available every time we need him. He takes time to listen to us and makes us feel he cares about us and our concerns. We will continue to ask Scott his opinions in the future. We enjoy Scott's advice and friendship." Leon L. – Lawrenceville, Georgia
How Does an Attorney Represent Someone With a Serious Back Injury?
Personal injury cases are unique and require personal attention. We do not employ a cookie-cutter approach to our cases. Each client who has suffered a serious injury or the loss of a loved one will receive personal attention to his or her case. We believe that this attention to detail and commitment to excellence gives our clients the best form of representation, ensuring their legal interests are fully and fairly represented in every court in Georgia, both inside and outside the Atlanta area.
We personally handle all cases we accept. We believe it is important to have a strong relationship with our clients so that we can fully understand the facts of each case and develop the best strategy to enable them to obtain justice. As a result of our approach, we have developed lasting professional and personal relationships with the people and families we have been privileged to represent throughout the years.
How do I Know if I Have Good Attorney Representation?
We are members of the Million Dollar Advocates Forum, whose membership is limited to attorneys who have achieved verdicts, awards, or settlements of one million dollars or more. The law firm of Slappey & Sadd, LLC also holds the highest rating possible (AV) by Martindale-Hubble, a nationally recognized lawyer directory. An AV rating recognizes "the highest level of skill and integrity" in the profession. In addition, our firm has been named as one of Georgia 's Super Lawyers 2009, as published in Atlanta Magazine and Georgia Super Lawyers Magazine®, March 2009.
Our Firm
There are many personal injury attorneys to choose from in Atlanta. Many advertise on television, in newspapers, or on the radio. However, other than our website, we do not advertise. Nearly all of the clients we represent come to us from former clients and other attorney. We are humbled by the trust our former clients and colleagues in the legal professions place in us by referring cases to our firm. This web site is being provided to let you know a little more about us, so that you can make your choice when deciding which personal injury attorney you will hire in Atlanta, or elsewhere in Georgia.