Aggressive Truck Drivers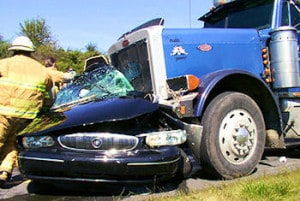 As we have mentioned elsewhere, the vast majority of truck drivers are trained professionals who are safer drivers than the average motorist on the road. However, truck drivers are still human and are subject to human emotions and error, including aggressive driving. If you have been injured in a trucking accident that you believe was caused by a truck driver's angry, aggressive, or reckless driving, you may be entitled to compensation. The truck accident attorneys at Slappey & Sadd have extensive experience representing clients who were injured by aggressive and fatigued truck drivers, we will review your case and work on your behalf to obtain the maximum compensation you deserve. We serve the entire state of Georgia, including Lagrange, Rossville, and Loganville.
What is Aggressive Driving?
Eight out of 10 drivers surveyed in AAA's annual Traffic Safety and Culture Index ranked aggressive driving as a "serious" or "extremely serious" risk that jeopardizes their safety. Aggressive driving is the operation of a motor vehicle in an unsafe and hostile manner and without regard to others. It is also usually deliberate and ill intended. There are several telltale signs that you are dealing with an aggressive truck driver. These might include:
Speeding in heavy traffic;
Tailgating;
Excessive honking;
Cutting in front of another driver and then slowing down;
Running red lights;
Weaving in and out of traffic;
Changing lanes without signaling;
Blocking cars attempting to pass or change lanes; and
Using headlights or brakes to "punish" other drivers.
More extreme cases of aggressive driving can exhibit behaviors that cross the line into road rage:
Cursing and using rude or obscene gestures;
Throwing objects;
Ramming other vehicles;
Sideswiping other vehicles; and
Forcing another vehicle off the road.
What to do if You Share the Road With an Aggressive Truck Driver
Every aggressive-driving encounter is different, but there are a few key steps you can take to avoid escalating an aggressive driving incident and to reduce the chances that it will lead to an accident:
Stay calm and relaxed;
Make every attempt to get out of the way safely – don't escalate the situation;
Do not challenge an aggressive truck driver by speeding up or attempting to hold your position in your lane;
Wear a seatbelt and encourage your passengers to do the same;
Avoid eye contact with the aggressive driver;
Ignore harassing gestures and refrain from returning them;
Report aggressive drivers to appropriate authorities by providing a vehicle description, the license plate number, the location, and the direction of travel;
If you feel physically threatened, call 911.
Recovery for Accidents Caused by Aggressive Truck Drivers
If you were injured in an accident that was caused by an aggressive truck driver, you are probably wondering if you can be compensated for your losses. Many behaviors associated with aggressive driving violate Georgia state traffic laws and, when that is the case, the truck driver can be deemed at-fault for the accident. If you believe that you have a pursuable claim, it is a good idea to contact an Atlanta truck accident attorney to review your case.