Accidents Caused by Drunk Drivers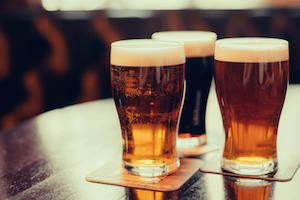 Drunk driving is a very serious threat to public health and safety and is responsible for thousands of injuries and deaths on America's roadways every year. If you or a loved one has been injured by a drunk driver, you may be entitled to compensation. The Atlanta drunk driving accident lawyers at Slappey & Sadd have a long history of representing clients who were injured by drunk drivers, and we will work on your behalf to obtain the maximum compensation you deserve. We serve the entire state of Georgia, including Fulton County, Gwinnett County, and Muscogee County.
Civil Penalties for Drunk Driving
Although the terms "DUI" and "DWI" are usually associated with criminal actions, there is also a range of civil consequences that can befall a drunk driver, independent of the criminal charges. While there is no such thing as a "civil DUI," there are a variety of civil methods for recovering from drunk drivers and for punishing them for their dangerous behavior, including:
Civil suits brought by the accident victim or by members of the victim's family: Insurance companies normally compensate when bodily injury or property damage is involved. However, if the damage is severe – for example, if someone died – the damages can easily exceed the driver's insurance policy limits. In such cases, the victim or the victim's representatives can bring suit directly against the driver with the assistance of an Atlanta drunk driving accident attorney for any remaining damages.
Insurance issues: A DUI is a serious offense and renders the offender a high risk for his or her insurance company. As such, a drunk driver's insurance company will likely either raise the driver's rates or drop the driver from the policy entirely. This can make it hard to afford insurance or to find a new insurer willing that's to take on such risk.
Suspension or revocation of driver's license: Driver's licenses are issued and controlled by the state of Georgia, and thus, the state has the power to revoke or suspend a drunk driver's license if ordered to do so by the court.
Note that criminal proceedings against a drunk driver do not prohibit you from bringing a civil action against that same driver. These legal proceedings are separate from each other and can occur either simultaneously or consecutively. Further, the outcome of any criminal charges brought against the driver does not control the outcome of a civil case brought against him or her. Thus, even if the DUI/DWI charges against the driver are dismissed, you can still retain a drunk driving accident lawyer in Atlanta to recover from that driver for the damage referenced in the civil action.
Types of Civil Actions We Handle Against Drunk Drivers
Personal Injury: If you are injured in an accident involving a drunk driver, we can pursue a personal injury claim on your behalf.
Wrongful death: If your loved one is killed by a drunk driver, you can file a civil suit for wrongful death on behalf of your loved one's estate.
For both of these actions against drunk drivers, punitive damages are available. Punitive damages are intended to punish the defendant for damages beyond the compensatory damages and pain-and-suffering damages that the successful plaintiff is awarded. They are awarded most often in those cases where the defendant's misconduct was willful, such as in cases of fraud; intentional tort; insurance bad faith; or, as in this case, drunk driving. If you or a loved one was injured in a drunk driving accident, it's a good idea to contact a drunk driving accident attorney in Atlanta to review your case.